Want to WIN this 
Snap-On Toolbox?
Here's how:
With every $20 purchase online, you will automatically be entered to win this AWESOME toolbox. 
Contest runs until New Year Eve 2019! The winner be announced live on Instagram/Facebook.
ENTER NOW!
Please read the full Contest Details below.
SHOP GEAR!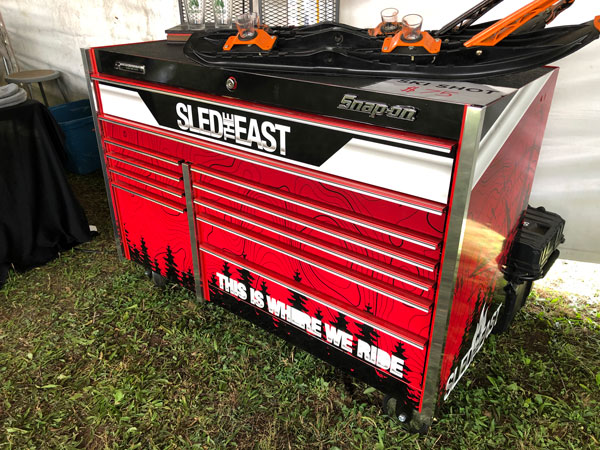 Eligibility:
All United States citizens over 16 years of age are eligible.  Unfortunately Canadian residents are ineligible for this contest.
Promotion Period: 
November 1, 2019 through December 29, 2019
How to Enter: 
Any purchase from the sledtheeast.com web-store of $20 or more gets you automatically entered. Purchases above $20 in a single order still count as one entry. (IE one purchase, one entry). Purchase is necessary to enter. 
Finalist Drawing: 
Drawing will be streamed live on December 31st at approximately 11pm (New Years Eve). Winner will be announced live at that time via social media. Winner will then be contacted directly via email by January 3rd 2020. Arrangement to collect the prize will be made at that time. 
Collection of Prize: 
Winner will be responsible for taking delivery of the toolbox in Northwest Vermont by January 31st 2020. Failure to take delivery will result in forfeit of the prize.  Sled the East is not responsible for any damage occurred during loading or transport. 
Publicity:
Participant agrees to allow Sled the East to entrants' names, photographs, videos, voices and/or any other likenesses for purposes of advertising and publicity in all media types.
Substitution: 
Substituting the Toolbox for any other kind of prize is prohibited. If the winner chooses to not accept the Toolbox, they will be disqualified.
Transfer: 
Transfer of the contest winner is prohibited. This is to include family or friends. Winner of the contest is the only one who may collect the prize. 
Warranty and Affiliation: 
There is no warranty on the Toolbox. This contest is not affiliated with Snap-On® Tools.